Sports
Caleb Williams and No. 6 USC dominate Nevada with a 66-14 win
[ad_1]
Of all the USC touchdowns — and there were plenty of them in the 66-14 rout of Nevada Saturday at the Coliseum — there's a clear pick for favorite Lincoln Riley. Stanley Tauffothe 6-foot-2, 275-pound defensive lineman, jogging into the end zone after returning a fumble that sent the USC coach leaping through the air in a joyous sideline celebration.
"When big people score goals, football is more fun," Riley said with a slight smile.
After a disappointing opening game of the season, the #6 Trojans (2-0) played as one team with playoff hopes.
Quarterback Caleb Williams cut the Nevada defense so casually that he could retire on the sideline with 2 minutes and 12 seconds left in the third quarter after passing for 319 yards and five touchdowns and a comfortable 42-7 lead. Including backup Miller Moss's seven completions on 10 passes, 14 USC players caught a pass and scored six touchdowns, led by two touchdowns from the Washington spell.
Even the badly battered defense recovered from an embarrassing touchdown on Nevada's first possession to keep the Wolf Pack scoreless for 10 consecutive rounds during USC's 45-point streak. Ta'ufo'ou punctuated the scoring increase, returning a fumble forced by freshman Brylan Shelby 23 yards to put the Trojans up 52-7. This was the Simi Valley native's first ever touchdown.
"It's like a dream come true to get a touchdown in defence," Tauffo said.
The Trojans beat Nevada (0-1) from the start, scoring a four-play run of 79 yards. Williams added another advantage to his Heisman reel, as he evaded pressure to his right, tiptoed down the sideline and slipped a pass 30 yards toward receiver Dorian Singer, who caught the ball with one hand.
"I was yelling at him to throw it away," Riley said. "Sometimes I get mad when he doesn't listen to me. This time I was glad he didn't listen to me.
The jokes flowed easily after the win — like receiver Mario Williams taunting freshman Duss Robinson for finally running with his knees on his 71-yard catch in the fourth quarter — but the action is just beginning. The overall defeat is still a far cry from what it would take for the Trojans to beat the Pac-12 in their final year in the conference.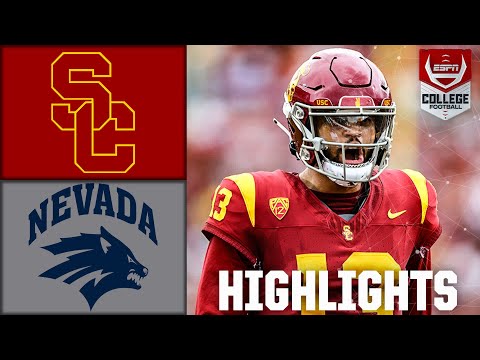 After successfully avoiding any pitfalls against the Wolf Pack — a team that went 2-10 last season and lost its quarterback coach less than two weeks ago — USC begins conference play against Stanford next Saturday in the Coliseum.
"You just have to keep climbing all year long," Riley said. "I think we took some real positive steps tonight, but in college football, every week has its own story."
Running back MarShawn Lloyd bounced back from a tense debut for USC to assert his claim to the starting role. The South Carolina transfer had a team-high seven carries for 76 yards and its first USC touchdown, while running back Austin Jones was limited to two carries for 19 yards.
Showing much-needed depth on defense, the Trojans overcame the loss of three linebackers to hold 49 yards on 38 carries.
Senior linebacker Mason Cobb and rookie returning Eric Gentry watched from the sideline with injuries, and the linebacker position grew thinner after rookie Tackett Curtis was fired for targeting during the second quarter. Raesjon Davis, who started in place of Cobb, teamed with Shane Lee to nail the defense for the rest of the game.
After a nagging injury in training camp cost him his starting role, Lee led the team with 10 tackles and 1 sack.
[ad_2]
Source link