World
Israel: Netanyahu wants immediate deportation of Eritreans after violence in Tel Aviv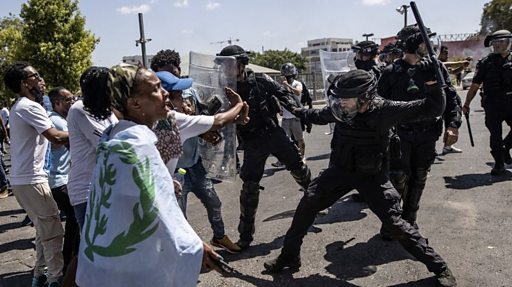 [ad_1]
By Yolande Knell
BBC News, Jerusalem
Israel is considering taking drastic steps including the immediate deportation of Eritrean asylum seekers implicated in the riots that took place in Tel Aviv on Saturday.
Some 170 people were injured in violent clashes with the police and in internal fighting between groups of supporters and opponents of the Eritrean regime.
Prime Minister Benjamin Netanyahu said the "red line" had been crossed.
He also ordered a new plan to deport all African immigrants, whom he described as "illegal infiltrators".
The unprecedented unrest began on Saturday after activists opposed to the Eritrean government said they had asked Israeli authorities to cancel an event organized by their country's embassy.
They stormed a police barricade around the place, which was then vandalized.
Riot police fired tear gas, stun grenades and live ammunition as officers on horseback tried to drive away the demonstrators.
An investigation was opened as to whether the use of live ammunition fell within the law.
Israeli police, dozens of whom were among the injured, said they felt their lives were in danger.
There were also dramatic street battles between large crowds of Eritreans armed with bits of wood, metal and rocks. In addition to attacking each other, they smashed shop windows and cars.
Divisions within Eritrea over the rule of President Isaias Afwerki have spilled over into the diaspora, the latest outbreak of violence in recent weeks.
Residents said the streets of central Tel Aviv looked like a war zone for several hours, as police helicopters flew overhead and sirens sounded.
hard choices
Netanyahu and others in his government have blamed the Supreme Court for blocking previous attempts to expel immigrants from Israel.
"There is still a serious problem now with illegal infiltrators in south Tel Aviv and elsewhere," the prime minister said during Sunday's special government meeting.
"We want tough measures against rioters, including the immediate deportation of those who took part," he added.
He asked ministers to present him with plans to "remove all other illegal infiltrators".
Far-right National Security Minister Itamar Ben Gvir now plans to propose a bill that would repeal part of Israel's quasi-constitutional Basic Law on Human Dignity and Liberty to advance mass deportations of immigrants who entered the country illegally.
It is estimated that there are about 18,000 asylum seekers from Eritrea in Israel, most of whom arrived illegally years ago via Egypt's Sinai Peninsula. They say they fled danger, persecution and conscription in one of the world's most repressive countries.
Although pro-regime Eritreans do not appear to be in need of international protection as refugees, the authorities in Israel have not yet distinguished between asylum seekers on the basis of their political affiliation.
As Eritrea celebrates 30 years of independence from Ethiopia, there are festivals for the Eritrean expatriate.
But in addition to Israel, some countries in Europe and North America have also been marred by violence. Last month, a three-day Eritrean cultural festival was canceled in Toronto, Canada, after clashes broke out between supporters and opponents of the Eritrean regime.
[ad_2]
Source link