Business
Los Angeles hotel strike leads to convention boycott
Unionized hotel workers in Los Angeles intensified their fight for higher wages and better working conditions by calling large get-away-from-the-city conventions.
Members of Unite Here Local 11 announced the boycott Thursday, calling it a "major escalation" in a battle with hotels that has rocked Los Angeles' tourism industry. They want groups planning large-scale meetings to cancel or postpone until the union can strike new deals with hotels, or move events to another city.
"We're telling them to stay away from Los Angeles," Kurt Petersen, one of the union's co-chairs, told HuffPost. "Tourism is the most important industry (here)." If tourism doesn't pay the workers a living wage, this city will continue to fall apart, and the housing crisis will be worse than it is now.
Rolling strikes It began over the Fourth of July weekend and has continued intermittently ever since, with strikes by cooks, room attendants, dishwashers, servers, front desk agents, and bell workers. Nearly 60 union contracts remain unsettled after their June 30 expiration.
The workers are demanding an immediate $5-an-hour increase to offset exorbitant housing costs in the area — a proposed wage increase that Petersen said "alleviates some of the anxiety about rent." According to the union, a recent survey of members showed that more than half of workers said they had to move in the past five years, or will have to move soon, because they can no longer afford to live where they live.
"If tourism doesn't pay the workers a living wage, this city will continue to fall apart."

– Curt Petersen, Co-Chair, Unite Here Local 11
Picket lines have appeared sporadically since the strikes began, with workers telling guests not to patronize hotels with unresolved contracts.
The union has called for boycotts of three specific hotels—the Maya Hotel in Long Beach, the Laguna Cliffs Marriott in Dana Point, and the Fairmont Miramar in Santa Monica—alleging that management condoned violence against the strikers. Video from outside the Maya Hotel earlier this month showed a protester punch in the head By someone who may have been a hotel guest.
But so far, Local 11 has not called for a large-scale boycott of major conferences. Pressing large groups to back out of their downtown plans could put pressure on hotels, as well as ancillary businesses that rely on convention traffic.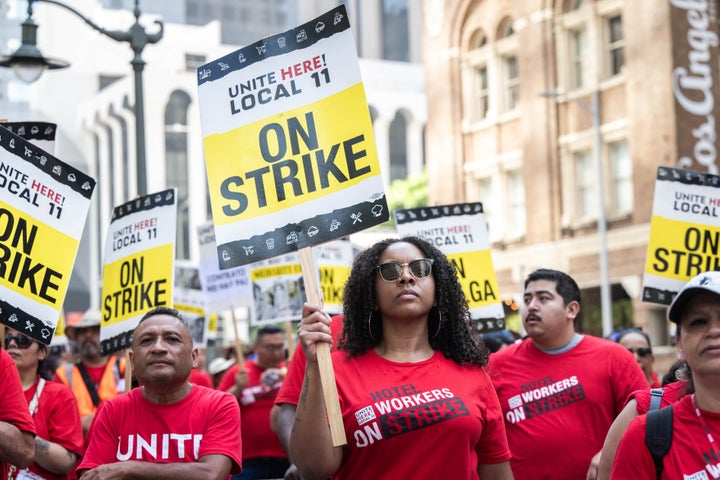 The boycott call extends to the American Political Science Association, which is set to host a four-day conference at the Los Angeles Convention Center over Labor Day weekend. Last month, the group said it had done so Hundreds of scheduled meetings In hotels that could be affected by strikes. The union sent a letter to the director of the association, asking him to change its plans.
"We believe that unless the hotel industry shares its historic profits, we may soon have no choice but to call for a boycott of the City of Los Angeles," the union wrote.
Local 11 said it believes hundreds of potential participants have canceled their plans for the APSA conference, but the conference is still slated to go ahead.
"We are in a losing position and realize that members may choose not to attend due to the risk of a strike." APSA told its members Last month.
Meanwhile, the union said various other groups — the Democratic Governors Association, the Japanese American Citizens Association and the Council of Western State Governments — have all recently moved their meeting locations or changed dates so as not to cross potential picket lines.
Petersen said any guest staying at a club hotel should expect substandard service and a picket line.
"If that happens, you'd better go camping, because your hotel stay will be very unpleasant," he said.