iPhone News
People need to stop panicking about the iPhone 15 needing special USB-C cables
The iPhone 15 series, and possibly some versions of the iPhone 14, will get a USB-C connection later this year when the first is introduced. It finally happened; The lighting is slowly dying. But you'll still need the old cable for other iPhone accessories you may own.
However, you really need to stop panicking about the USB-C port and cables for the Phone 15 right now, regardless of what some of the leaks might claim.
A leaker posted images of the iPhone 15's alleged USB-C port a few days back. Someone else had access to more photos of the port. This time, the images contain an alleged Apple chip called the 3LD3.
It is not clear what the purpose of this chip is, as the leaker speculates that it may have something to do with data encryption.
Or it may not be an original iPhone 15 part. We won't know until someone jailbreaks the iPhone 15 and iPhone 15 Pro models. This is because the two devices may feature different USB-C functionality.
All USB-C cables should work with iPhone 15
Whatever the case, you don't have to worry about your iPhone 15's USB-C port or cable just yet. Not until we find out from Apple what the ports can do.
Yes, Apple will have a Made for iPhone (MFi) program that covers iPhone 15 USB-C accessories, including cables. This is for your own good. I want to make sure my cables are safe for higher charging and data transfer speeds. I would buy USB-C cables with the Mfi inscriptions on the box just to be safe.
But the USB-C cables lying around your house will, at least, allow you to recharge your iPhone 15. That's the whole idea behind the EU charging standard. The charging standard played a major role in Apple's adoption of USB-C so quickly.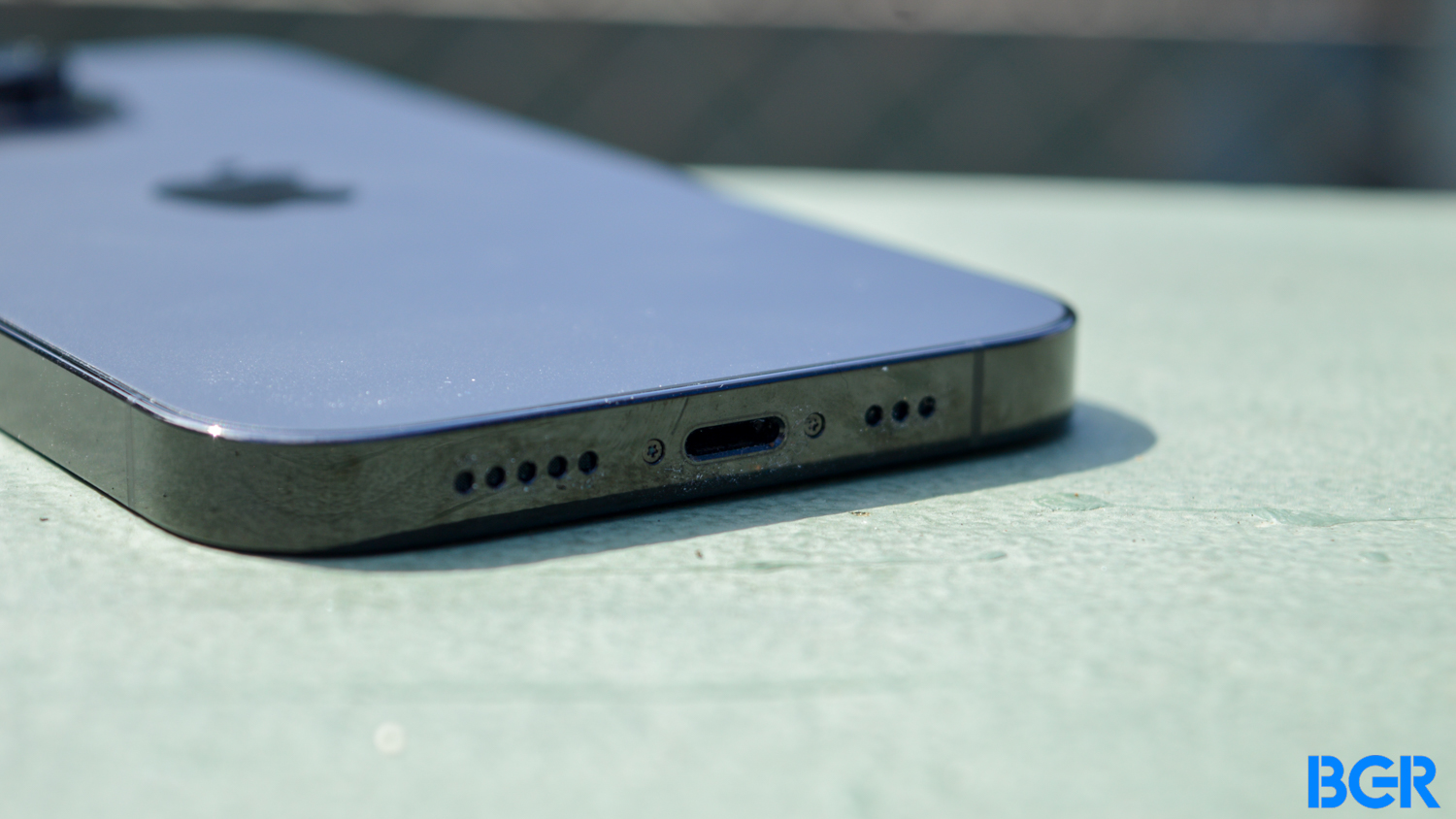 The EU wouldn't like it, for example, if buyers found out that the USB-C cables they already own didn't work with the iPhone 15. It's a problem Apple doesn't want to face. And the European Union has already overreacted to the iPhone 15 rumors.
If you have iPads and Macs, USB-C cables will recharge your iPhone 15 models. If you have Android, Windows, and other USB-C devices, these cables should also recharge your new iPhones.
Most people are only interested in charging their iPhone with a suitable solution. They have no cause for concern.
What about the data transfer speeds of the iPhone 15?
But there are categories of iPhone users who will be interested in USB-C ports and cables. If you want fast data transfer, you'll need USB-C cables that support that. Rumor has it that only the more expensive iPhone 15 Pro and 15 Pro Max will support Thunderbolt transfer speeds.
In such a case, you will need Thunderbolt cables. Even Apple makes it clear its website Not all USB-C cables that come with the devices support Thunderbolt speeds.
To distinguish a USB-C Thunderbolt cable from a regular USB-C cable, you have to look for the Thunderbolt icon first.
I expect all four iPhone 15 models to ship with regular USB-C cables. If you need Thunderbolt speeds, you either have such a cable at home or buy one.
What about fast charging?
As for battery charging speeds, don't get your hopes up. Just because iPhones will support USB-C, don't expect charging speeds like those on Android. If anything, Apple might give charging speeds a slight boost.
Apple's priority is long battery life, especially now that some iPhone 14 Pro owners are starting to notice a faster deterioration in battery health on their devices. Increasing charging speeds may affect battery health.
Currently, iPhone 14 supports maximum wired charging speeds of 20W. However, unofficially, iPhones can recharge at speeds of up to 30W using a larger charging unit. I've been using a 100W charger for all of my iPhone 14 Pro wired and wireless charging. This means speeds between 15W and 30W. And my battery health is at 99% after almost a year of use.
If Apple increases charging speeds, then yes, certain cables may be required to offer functionality. This is where the MFi program may come into play. But even if this is the case, it is too early to worry about the USB-C functionality in the iPhone 15.
I already won. At the very least, you'll be able to use the USB-C cables you have at home to recharge your iPhones. And this is the most important feature of the iPhone 15 here.