World
'Thaksin represents the grassroots': Return of Thailand's divisive former leader | Thaksin Shinawatra
THaksin Shinawatra has not held any political office since his ouster in 2006 and, as of Tuesday, had not set foot in Thailand in more than 15 years. Despite this, he remained one of the most influential and polarizing politicians in the country.
Born in Chiang Mai in northern Thailand, Thaksin became a police officer before making his fortune as a telecoms magnate. At the age of 48, he founded the Thai Rak Thai (Thais Love Thais) party and came to power in 2001 with a landslide victory in the elections.
Thaksin was the first politician to exploit the electoral influence of rural voters in northern and northeastern Thailand, and to offer policies that improved their livelihoods. Thaksin introduced a universal healthcare plan, village funds to stimulate growth, as well as policies to promote entrepreneurship and help the country recover from the Asian financial crisis. He also oversaw the early payment of debts owed by Thailand to the International Monetary Fund. Many of his supporters associate his time in office with economic prosperity.
"Thaksin represents the grassroots of the people," said Damrong Khongbanya, 61, who traveled 10 hours from his home in Nong Khai in northeastern Thailand to welcome Thaksin at the airport. Damrong, who grows rice and owns a rubber plantation, said Thaksin took care of the farmers. "I didn't have a car before, but I managed to buy one, and I was able to send my children to graduate from university," he said.
However, Thaksin has become an increasingly divisive figure. His critics, often associated with conservatives in Bangkok, have accused him of corruption and abuse of power. In particular, he faced a major scandal involving the tax-free sale of the Shinawatra family majority in his communications empire, Shin Corp., to a foreign company. He was also accused of lacking principles or sufficient respect for the monarchy, and of being a threat to his power.
Conflict between Thaksin and his opponents in the royal military establishment left Thailand deeply divided and led to periods of political turmoil. The military seized power in coups twice, the courts repeatedly dissolved parties and barred individuals from politics, prolonged street protests swept Bangkok, and an army crackdown left more than 90 Thaksin supporters dead.
Thaksin was overthrown in a 2006 coup and has been living in exile since 2008 to avoid the legal charges he now faces after returning to Bangkok. His sister, former prime minister Yingluck Shinawatra, suffered the same fate in 2014 and remains in exile.
Even from the outside, Thaksin remained influential, often sharing his views on social media and giving talks under the pseudonym Tony Woodsome on the Clubhouse platform. He is Thailand's most electorally successful politician, and parties associated with him have won the most seats in every election since 2001 – except this year.
In the May elections, despite the ambition of Pheu Thai (the third incarnation of its party after suppressing the first two) to win in a landslide, the pro-democracy youth party "Move Forward" is in fact the one that gets the most votes, despite being banned To get the most votes. Office by senators appointed by the military.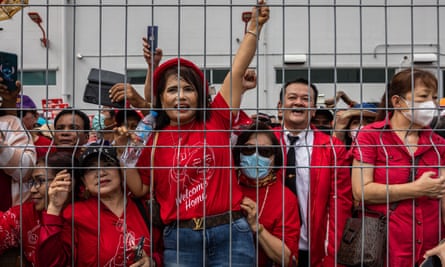 Among the crowd of mostly older supporters who turned out to welcome Thaksin on Tuesday, some noted that younger voters were increasingly "moving forward". One Pheu Thai supporter said it was the only party brave enough to call for reforms to the law that protects the monarchy from criticism. "Move Forward is very brave to talk about. Pheu Thai is still stuck on the other side. The Move Forward movement is very brave and they want to fight for the people."
Ironically, Thaksin's party has joined its old military foes to form a coalition. Some supporters say they understand that the party must do so to overcome electoral obstacles that have emerged in the aftermath of the recent coup. Others see it as a sign of the party's abandonment of its democratic values, and question whether the move is just part of a deal to let Thaksin back – something his daughter, Paytongtarn Shinawatra, has denied.
On Tuesday, after he traveled to Bangkok on a private plane, he was taken to prison. The Supreme Court said in a statement that he faces an eight-year prison sentence. However, many expected that with his party sharing power with his old rivals, he might be given a softer option.
Source link