World
The United States helps South Korea recover the wreckage from North Korea's failed spy satellite launch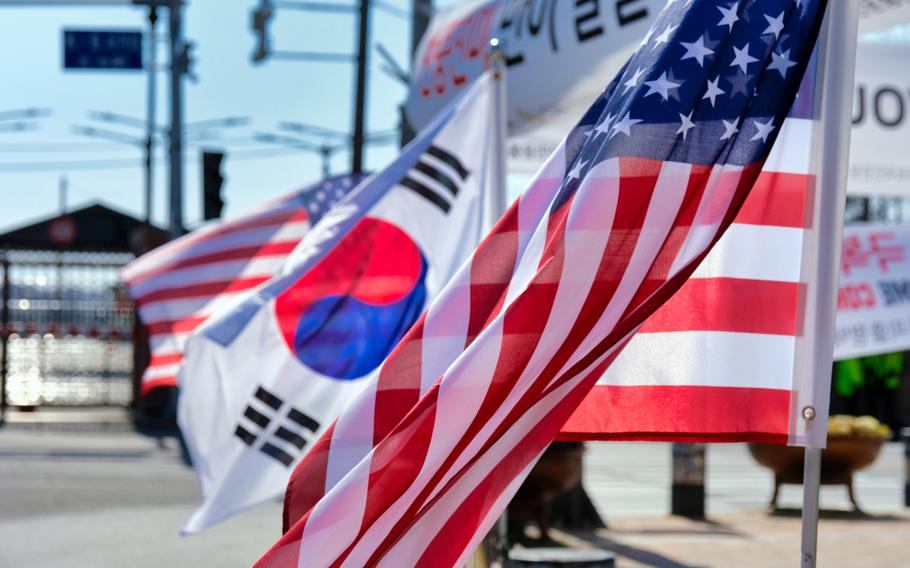 Camp Humphreys, South Korea – The United States is helping the South Korean military recover debris from North Korea's failed launch of a reconnaissance satellite, a senior defense official told lawmakers Friday.
Heo Takyun, head of South Korea's Department of National Defense Policy, said during a televised hearing of the parliamentary National Defense Committee that Seoul and Washington are working to rescue the space launch vehicle from the Yellow Sea and analyzing the launch together.
Neither Heo nor National Defense Minister Lee Jong-sob disclosed during the hearing how the US forces contributed to the research. USFK did not immediately respond to requests for comment by phone and email on Monday.
A spokesman for the Ministry of National Defense, Jeon Ha-kyu, told reporters that day that the search for the wreckage continued on Monday.
The third stage of North Korea's Cholima-1 missile failed to take off Thursday, according to the official Korean Central News Agency. On Friday, KCNA reported that the system will attempt another launch in October.
South Korean government officials, who did not give their names, said in a report published by the newspaper "Dong A Ilbo" on Monday that the South Korean military radar detected the North missile before it separated into approximately 40 fragments.
The South Korean military did not rule out that North Korea deliberately destroyed the missile Thursday after it failed to thwart Seoul's analysis of its technological advancement, according to the report.
Thursday's launch was North Korea's second failed attempt to put a reconnaissance satellite into orbit since May 31. About five weeks after the first attempt, South Korea's Joint Chiefs of Staff said the military had found pieces of the North Korean satellite and missile in the Yellow Sea and described the wreckage as primitive equipment "with no military utility".
A spokeswoman for UN Secretary-General Antonio Guterres condemned the missile launch, describing it as a violation of Security Council resolutions that prohibit North Korea from using ballistic missile technology.
"The Secretary-General reiterates his call (North Korea) to cease such actions and quickly resume dialogue without preconditions to achieve the goal of sustainable peace and the complete and verifiable denuclearization of the Korean Peninsula," Florencia Soto Nino said in a press release. Thursday release.
The launch took place four days after Ulchi Freedom Shield, a large-scale 11-day biannual military exercise in South Korea conducted by the two allies. US and South Korean military officials described the exercise as defensive in nature and said it would include about 30 separate air, land and sea maneuvers.
Lee told lawmakers that North Korea's latest launch did not delay the Ulchi Freedom Shield and that the exercise would be conducted "as normal".
Stars and Stripes reporter Yoo Kyung Chang contributed to this report.
Source link