World
What you need to know about Japan's release of Fukushima water into the ocean: NPR
Philip Fong/AFP via Getty Images
Workers in Japan have begun releasing treated radioactive water from the Fukushima Daiichi Nuclear Power Plant into the Pacific Ocean. The factory was destroyed in a 2011 earthquake and massive tsunami, and the water has been piling up ever since.
On Thursday, the Chinese government announced that it would immediately suspend imports of aquatic fish, such as seafood, from Japan.
review by The International Atomic Energy Agency of the United Nations The agency says the discharge will have minimal radioactive impact on people and the environment, but some countries remain concerned. Here's what the Japanese government is doing, and why.
Why is there water at the Fukushima plant?
After the 2011 Tōhoku earthquake and tsunami, several reactors at the Fukushima Daiichi Nuclear Power Plant melted down. To avoid further disasters, workers flooded the reactors with water, which soon became highly polluted. The plant is now offline and the reactors are down, but they still need to be cooled, which is why sewage continues to accumulate. In the years since the accident, groundwater has also seeped into the site, and some of it has also become polluted.
Dealing with all this radioactive water has been a huge technical challenge for the Japanese government. Currently, about 350 million gallons are stored in more than 1,000 tanks at the site, according to Japanese authorities. The tanks are nearing their maximum capacity, and the site is not suitable anymore, so some water has to be released, according to the government.
Philip Fong/AFP via Getty Images
Can't they just filter out radioactive particles from the water?
The government is creating a complex filtration system that will remove most of the radioactive isotopes from the water. Known as an Advanced Liquid Handling System (or ALPS for short), it can remove many different radioactive contaminants from water.
Authorities used ALPS and other systems to remove some of the more dangerous isotopes, such as cesium-137 and strontium-90.
But there is one radioactive isotope they cannot filter out: tritium. Tritium is an isotope of hydrogen, and hydrogen is part of water itself (H20). So it is impossible to create a filter that can remove tritium.
So how does the Japanese government plan to release this water safely?
There are a few parts to the plan. First, they would dilute the water with seawater, so that there would be much less tritium in each drop. The government says it will bring tritium levels well below all safety limits, and below the level released by some operating nuclear plants. Second, they take that softened water and tunnel it under the sea floor to a point off the coast of Fukushima in the Pacific Ocean. This will relieve her even more.
Finally, they will do so slowly. It would take decades to empty all of these reservoirs.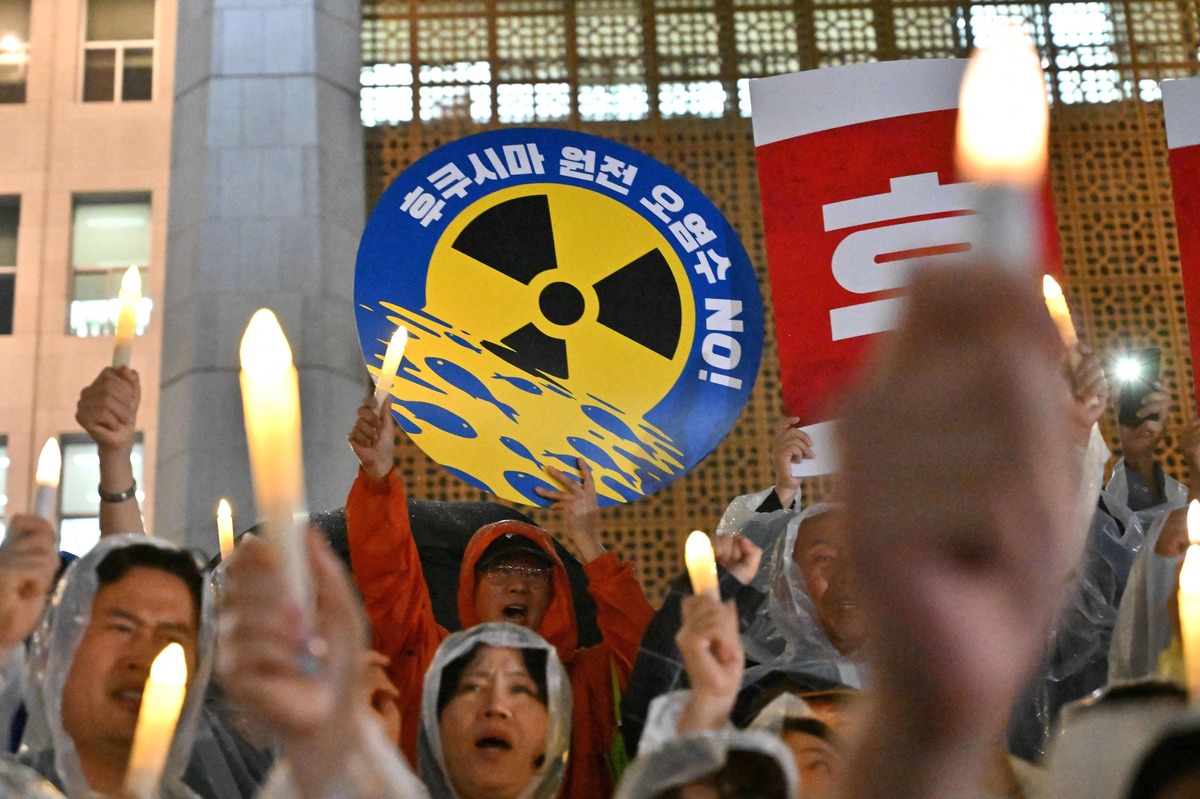 Jung Yoon-ji/AFP via Getty Images
Do others think this process is safe?
And the Japanese government insists that tritium isn't that bad, especially when compared to some of the other radioactive materials found at the site. Its radioactive decay is relatively weak, and because it is part of the water, it moves through biological organisms very quickly. It has a half-life of twelve years, so unlike elements like uranium-235, which has a half-life of 700 million years, it will not survive in the environment that long.
Given all this, the government believes this is the safest option available.
The IAEA has reviewed this plan and believes it meets international safety standards. The International Atomic Energy Agency also plans to conduct independent monitoring to ensure that the dumping process is carried out safely.
Jim Smith says: Professor of environmental sciences at the University of Portsmouth. He has spent the past few decades studying radioactivity in waterways after nuclear accidents, including Chernobyl.
"We have to put radiation into perspective, and release the plant – if it's done right – the doses that people get and the doses that the ecosystem gets will not be that great, in my opinion," says Smith.
Edwin Lyman is Director of Nuclear Energy Safety Of the limited options Japan has for wastewater, he says at the Union of Concerned Scientists in Washington, D.C., none are good, but: "In my view, I think their current plan, unfortunately, is probably the least risky." "Bad from a bunch of bad choices," he says.
"The idea of ​​intentionally releasing hazardous materials into the environment, into the ocean, is abhorrent," says Lyman. "But unfortunately, if you look at it from a technical point of view, it is difficult to say that the effects of this discharge will be worse than those of nuclear power plants operating around the world."
But not everyone agrees that drainage is the best option. Ken Boesler, Big world At the Woods Hole Oceanographic Institution, he thinks it would have been better to keep the polluted waters on land "where it's easier to monitor". Options would have included mixing it with concrete to stabilize it.
Bossler doesn't think the water will pose a threat across the Pacific. "We don't expect to see direct, large-scale health impacts, either on humans or on marine life," he says. But he believes that non-tritium contaminants that the ALPS system ignores could build up over time near shore.
"Nearshore areas of Japan may be affected in the long term due to the accumulation of non-tritium forms of radioactivity," he says. This could end up harming fishermen in the area.
Moreover, Boesler is concerned about the message being sent to other countries, which may be eager to dump nuclear waste at sea.
How do other countries respond to Japan's decision?
Other countries have expressed concern about Japan's plan. South Korea has seen mounting public protests against the decision.
Busler consults with Pacific Islands Forum, a coalition of countries including the Marshall Islands and Tahiti that are also concerned about Japan's decision. He points out that many of these countries were exposed to high levels of radioactive fallout as a result of nuclear testing in the atmosphere during the Cold War. "There are islands they can't go back to…because of the old pollution," Boesler says.
Moreover, "in many ways they suffer more from climate change and sea level rise than the rest of the world," he says. In their view, launching Japan into the Pacific "is merely an environmental affront, among other things."
Source link