Sports
Final Round – Football – Georgia Tech Yellow Jackets
[ad_1]
Dontae Smith usually remains poised to the point of stoicism, but a smile spread across his face once he was asked to remember it.
"It was a counter game," Smith recalled of his first career outing, against Louisville on a foggy Friday in Atlanta in October 2020.
It was a surreal feeling. I got to the end zone, which was something the team had been waiting for. "Because a lot of times I had good runs, but I couldn't get to the end zone," he said.
Staying in the same school for six years gives you plenty of opportunities for nostalgia. The running back from Spring Hill, Tennessee will have another full-circle moment this weekend when Georgia Tech opens its 2023 season against Louisville — again on Friday night in Atlanta — in the Aflac Kickoff Game at Mercedes-Benz Stadium (7:30 p.m. ET, NET Georgia Tech Sports Network from Legends Sports). The Yellow Jackets will play the Cardinals for the first time since that game at Bobby Dodd Stadium, when Smith's 12-yard touchdown run provided the exclamation point in a 46-27 win.
A lot has changed for technology since that October night three years ago. A lot has changed for Smith, too. That's been a constant throughout his career, since his arrival as an A-linebacker in the summer of 2018. At Georgia Tech, he navigated three different head coaches, four different offensive coordinators, five different head coaches, crowded backfields, and scheme changes. – but the scene never changed.
"I put in a lot of work here. I have to win. I have to win." hereSmith said.
He knows loyalty might make him an outsider in college football today. But he makes the opening game on Friday even more important to him.
"It's a really bittersweet moment," Smith said. "It's been a long time, but (I'm) so excited."
"Ty is our starting running back. I'm very excited to see him go out there on Friday night and play," added coach Brent Key.
Were it not for a distantly related Yellow Jacket, Smith might not have landed Tech in the first place. At Spring Hill High School, 35 miles south of Nashville, Smith earned the nickname "2K Tae" for his ability to produce 2,000-yard sprint seasons with ease. However, top-level schools remained out of his scent, until former All-ACC guard Chuck Mason, a distant cousin of Smith's on his father's side, got down to business.
Mason was lightly recruited from nearby Columbia, Tennessee, before former assistant coach Andy McCollum pounced on him. He urged McCollum to do the same with his elusive, under-the-radar cousin.
"Coach Mack was actually recruiting somewhere in middle Tennessee, and Shaq said to him, 'Hey, you should stop by Spring Hill and check on my little cousin Dontae.'" Coach (Mack) was coming back, so he stopped and came into the office, Smith said. "He said he had seen my film, liked it, and asked me to come to the camp."
"I got here in 2018 and fell in love with the place," said Smith. "I can't put in all this work and say, 'Let me go somewhere else and try to win.' "I want to win here. I want to win something that I've been a part of building all these years. It really is loyalty and pride. I must finish what I started."
A long journey into the world of technology that he could not have imagined has begun. Since redshirting in 2018, then having 10 campaigns in a reserve role in 2019, Smith has been a staple in the Yellowjackets' rotation. He averaged 5.0 receiving yards over his career, with a knack for breaking tackles that belied his 5-foot-11, 198-pound frame. His 1,159 yards of rushing and 13 touchdowns hardly fit the profile of a player who is rarely used. He's also made a quick try in 27 consecutive matches, which is a remarkable streak of longevity in a high-contact position.
However, despite this consistency, Smith has never led Tech in rushing attempts in a season or averaged more than 35 yards per game. He split 2020 and 2021 with Jordan Mason and Jahmir Gibbs, a pair of future NFL running backs. After rushing to A career high 102 yards in an early September win over Western CarolinaHowever, a long-term knee injury forced him to forgo his campaign to move Hassan Hall for most of 2022.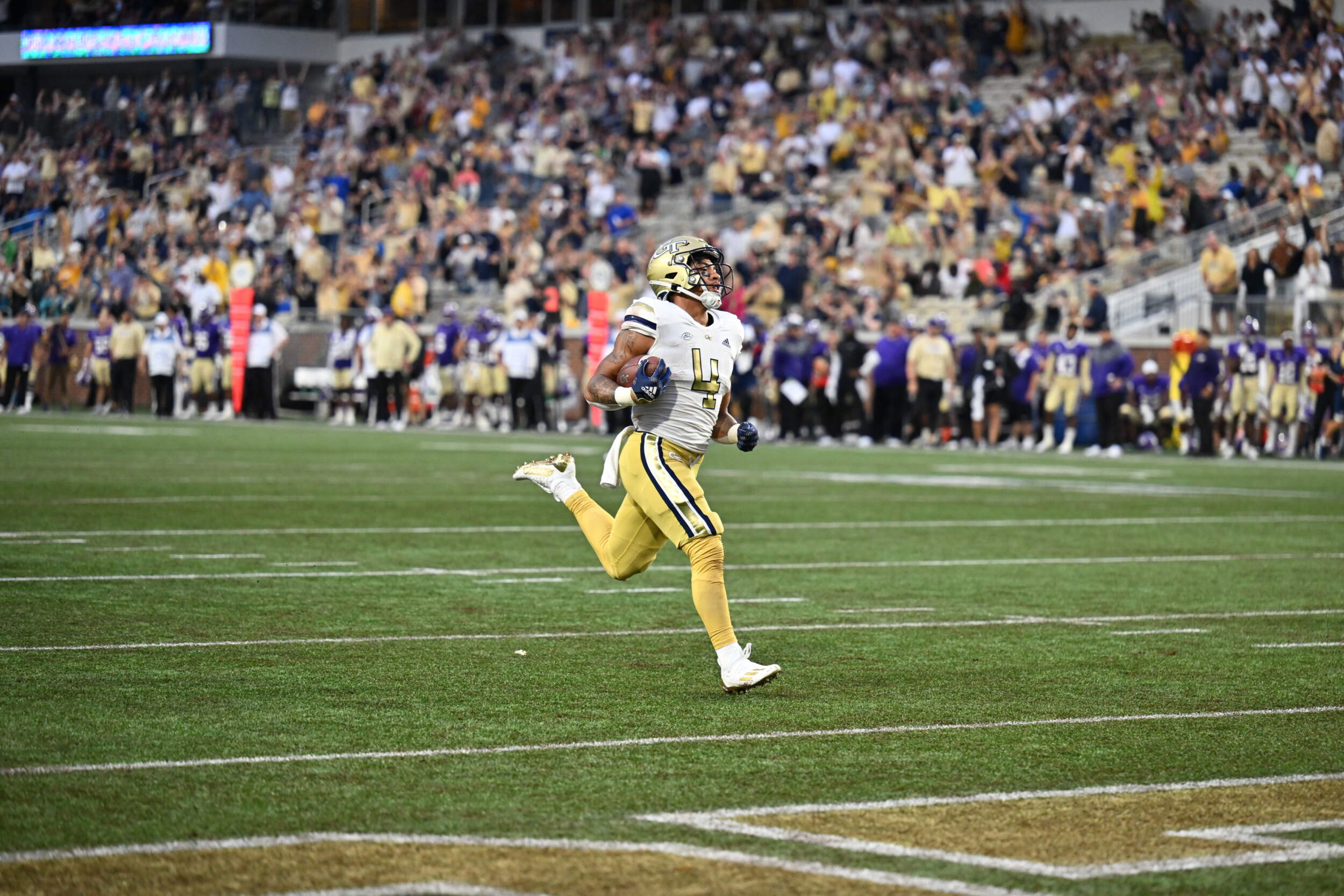 Smith was on his way to graduating with a business administration degree in December, and the NCAA granted all players an extra year of eligibility due to the coronavirus. If he stayed on Tech, he knew he'd have to adjust to his fifth coach at the linebacker position in six seasons. He hasn't played on a winning team since his redshirt year. He had not yet fully demonstrated himself as an outstanding full-back. Who knew if Georgia Tech's new offensive system would fit his skill set?
Gate or pros indicated. Instead, two days after the end of the regular season for Georgia Tech, Smith made up his mind.
"I love Coach K. When he got the head job, there was no question whether I would stay or not."
"When he got the temp job, I said in my head, 'We're winning.' He's going to get the head coach job. I've already made it into my beads. I told my mom I'm staying here at Georgia Tech," he added.
He also thought about all the equity he built during his five seasons at Tech. All the changes around him never sapped his passion for technology or his conviction in what the institute stands for.
It doesn't seem right to throw that away in search of a fresh start somewhere else.
"I got here in 2018 and fell in love with the place," Smith said. "I can't go all out and say, 'Oh, let me go somewhere else and try to win'. I want to win here. I want to win something that I've been a part of building all these years. It's really something of loyalty and pride. I have to finish what I started. "
His work ethic impressed new running backs coach Norval McKenzie.
"He's not a kid who's going to make mistakes mentally and he's going to train hard. He's been tested in the past so you feel confident he can go there and because of his experience he's had some success," Mackenzie said.
But the older players all know that. At a certain point in their careers, the "firsts" give way to the "lasts." On the eve of what he calls his "final first game," the Georgia Tech sixth year freshman is hoping his perseverance will be rewarded with a memorable final season.
"There's no nerves," Smith said, the smile on his stoic face again. There is no worry. There's a pure enthusiasm to do the best I can, and I know the work that I've done, that this team has done — once it translates on the field, people will see Georgia Tech. And they will see that we are back.
[ad_2]
Source link